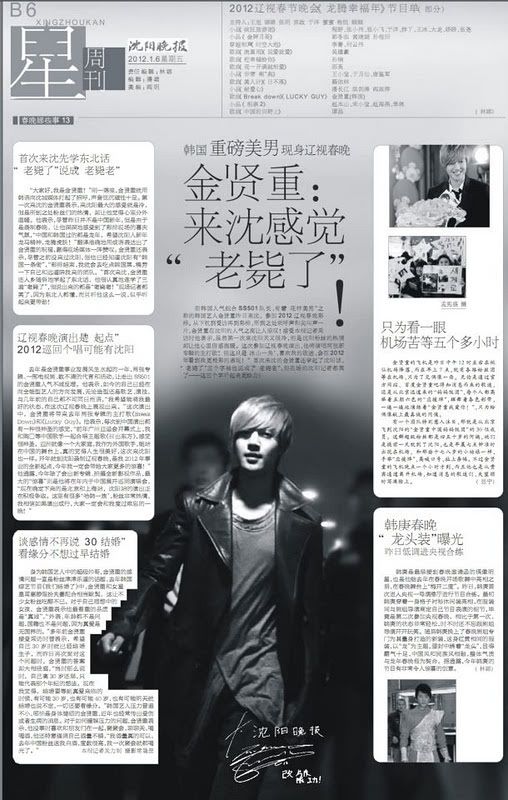 Korea
's beautiful man appears for Liaoning TV Spring Festival;
Kim Hyun Joong: Visiting Shenyang feels 'lao bi le' (very good)
Shenyang yesterday and participated in the Liaoning TV Spring Festival Night's rehearsal. From the moment he alighted from the plane until his interview and then rehearsal, wherever he went, there were cheers and screams throughout; Kim Hyun Joong's popularity in Shenyang is truly amazing.
Shenyang and the weather was very cold, but the passion of Shenyang fans made him feel warm at heart.
Shenyang, also learnt a little of the local dialect: "Lao bi le" - these three words when uttered from his mouth became "Lao bi lao", causing all the Shenyang reporters at the venue to laugh aloud - the words somehow sounded more powerful (from his pronunciation).
Shenyang, learnt some northeastern dialect
Shenyang media - the voice low and full of magnetism.
Shenyang, said that the deepest impression of his visit to Shenyang was the cold, but the passionate enthusiasm of fans wherever he went made him feel exceptionally warm at heart.
Shenyang before, he already got to know that Shenyang has a 'Korean Street'.
Shenyang, Kim Hyun Joong also did as the Romans and learnt some Northeastern dialect. In all seriousness, he learnt to pronounce "Lao bi le" three times, but what he pronounced eventually was still "Lao bi lao". Reporters at the scene were tickled because (while as) Northeasterners (they) understood, his pronunciation seemed to have made the phrase sound more interesting!
Shenyang
China to perform, there would be a very sacred feeling.
China's stage, really felt that life is beautiful. My visit to Shenyang this time is also the same. Starting the year recording for the Spring Festival Night in Shenyang is the brand new starting point of my career in 2012. I will definitely bring more surprises to everyone this year!"
China this year.
Beijing and Shanghai, now actively striving for Shenyang. There are many people who love Korean culture here (OKT: the phrase used refers to people who like all things Korean) and fans are very passionate. I believe that if the concert can take place, everyone will definitely spend an unforgettable night with me!"
(wishin
g you) success in your makeover